The NetCell combines the LTE Small Cell and LTE Packet Core on a single chip to deliver an "LTE Network-in-a-box" solution.
It is designed for use in LTE networks that are required to be deployed on demand, like disaster relief operations by Public Safety departments or tactical operations by the military or in oil and gas mining and other industries.
The NetCell is extremely portable and available in form factors that make it ideal for rapid deployment in vehicles, backpacks or Unmanned Aerial Vehicles (UAV). It considerably reduces the need for backhaul by enabling connected users to communicate within the coverage area provide by the NetCell. The NetCell can be deployed as an on-field extension of a centrally deployed EPC or as a standalone LTE Network.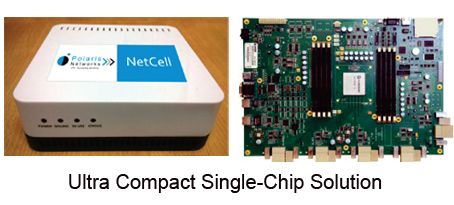 FEATURES
Ultra compact Small Cell and EPC on a single-chip
Includes eNodeB, MME, SGW, PDN-GW, HSS, and PCRF functions
Works with an external HSS and PCRF
Automatic synchronization of subscriber information between external HSS and local HSS
User-to-user communication without backhaul
Web browser based GUI
VoLTE