HPI is a standardized programmatic interface for monitoring and controlling highly available systems. HPI enables applications and middleware to discover, access and manage hardware resources. Its goal is to allow portability of application and middleware software across a variety of hardware platforms.
The HPI Tester is an automated software tool that tests a Hardware Platform Interface (HPI) implementation for conformance with the Service AvailabilityT (SA) Forum HPI specification SAI-HPI-B.03.01 and SAT Forum HPI-to-AdvancedTCA® Mapping specification SAIM-HPI-B01.01-ATCA.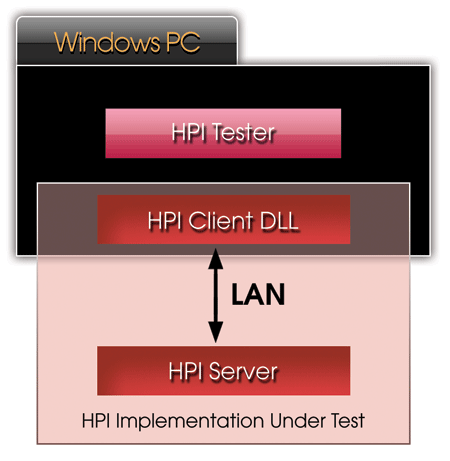 Benefits
The HPI Tester is designed for manufacturers of building blocks, System Integrators and Telecom Equipment Manufacturers who wish to test their HPI implementation during the development or quality assurance phase of their product life cycle.
The HPI Tester includes API Test cases that can be run with ATCA or MicroTCA systems as well as systems with a proprietory architecture. It includes ATCA-mapping tests that can be run with HPI implementation on ATCA systems. It will also include tests for other hardware platform technologies (e.g., MicroTCA) in future releases when the SA Forum develops specifications for mapping these technologies to HPI.
Features of the HPI Tester in Release V1.2
The HPI Tester has an intuitive GUI that allows the user to browse and select Test Cases for automated execution, view detailed test results including a decode of all API function calls, and generate detailed Test Reports. Tests can be scheduled for one-time or periodic execution at a future time. Users can modify the test scripts included in the product and create their own test cases.
Includes tests for conformance to the HPI-B.03.01 specification and older versions such as
HPI-B.02.01, HPI-B.01.01 specification
Features 800+ API test cases that exercise the 122 HPI-B.03.01 functions
It also includes 209 ATCA-mapping test cases that tests the requirements in SAIM-HPI-B01.01-ATCA
Includes tests scripted in TCL, a highly flexible scripting language
Displays test results in a tabular format and using Message Sequence Charts Decodes input and output parameters and return values of all API function calls Generates report in HTML format
Test scripts are available in source code form and are fully editable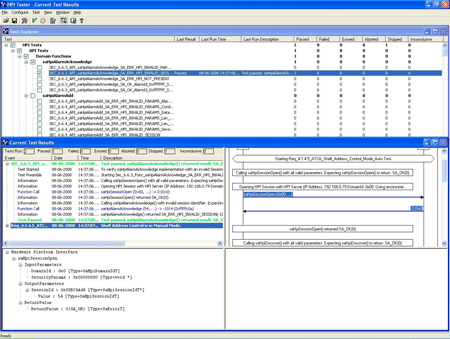 System Requirements for HPI Tester
The HPI Tester runs on Windows XP Professional®, Windows Vista Ultimate®, Windows Vista Business® and Windows Vista Enterprise
Minimum memory requirement is 1 GB
Minimum hard disk requirement is 10 GB
The host system must have at least one network adapter and one available USB port
System Requirements for Proxy Server
1 GB of RAM
Intel x86 CPU [32 bit]
Supported Linux OS distributions

CentOS 5 or higher
Fedora 6 or higher
Red Hat Enterprise Linux 5 or Higher