The AMC Tester is an automated test suite for testing the hardware-management software in Module Management Controllers (MMC) of an AMC and Carrier Manager and also of the Module Management Controller (MMC) of Front AMC managing a uRTM.
The AMC Tester is fully conformant with PICMG Specification AMC.0 R2.0 and PICMG MTCA.4 RC1.1.
It is designed for AMC manufacturers and system integrators who wish to reduce the time and resources spent on AMC testing, during the development and regression-testing of building blocks or during system integration.
The tester also helps meet interoperability and certification requirements of their systems for compliance with the AMC certification suite.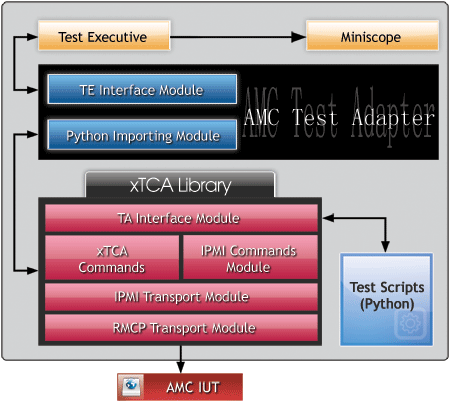 Benefits
By checking the compatibility of Module Management Controllers and Carrier Manager with respect to AMC® system management requirements, independently or simultaneously, AMC Tester enables user to:
Increase interoperability of building-blocks
Decrease development & integration time
Features
Windows-based GUI for easy operation also supports Command Line Interface and can be used to run tests from a remote system.
Tests AMCs and the corresponding uRTM module AMCs can be tested both on ATCA and MicroTCA Shelves.
More than 165 Test scenarios based on

AMC™ Interoperability Workshops scenarios
PICMG3.0 R3.0
AMC.0 R2.0
PICMG® Specification MTCA.4 Draft RC1.1 for
Proposed R1.0
IPMI 1.5

Test Categories

IPMC Tests
Carrier Tests
MMC Tests
HPM Tests
MTCA.4 Carrier Tests
MTCA.4 MMC Tests

Useful for testing Module Management Controller and Carrier Manager
Each test case maps to one PICMG specification AMC.0 R2.0 and MTCA.4 RC 1.1